Charity
Thanks for visiting our Charity page.
Here you will find all the information you need to gain an insight into the life-changing work of War Child.
You can also find out how you can help us keep this fantastic organisation doing the wonderful work it does.
Previous Campaigns
We created many campaigns in the last year to help raise funds for War Child.
We are proud to announce that in the last 16 months we have raised a total of £25,116.
Sass & Belle X War Child | Decorate to Donate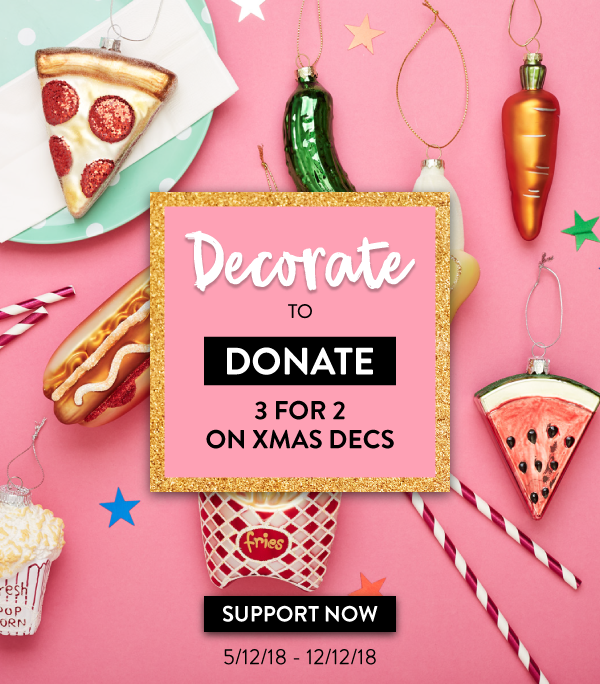 Christmas is the season for giving, at Sass & Belle this turns our attention to those who desperately need life-changing relief.
This campaign from 5th to 12th December 2018 saw 20% of all sales made online from our magnificent range of Christmas decorations, donated to War Child.
About War Child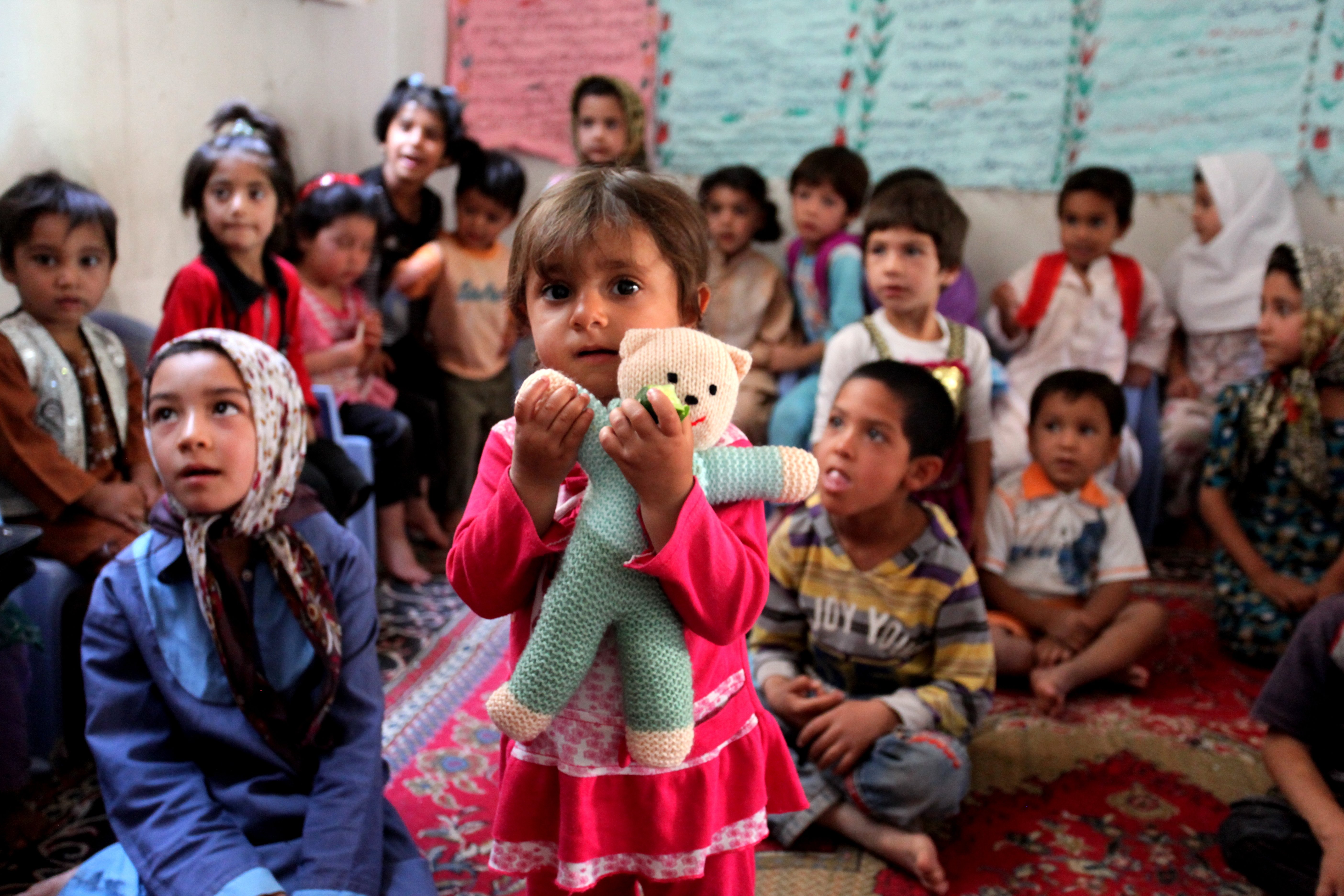 Sass & Belle is extremely proud to have a partnership with the children's charity, War Child.
'War Child is a wonderful charity that sheds a light on the most vulnerable children in terrible war-torn conflicts. The work that War Child do to directly aid children in the most dangerous countries in the world and the on-going support, education and relief that they provide for those families is absolutely incredible. As a father, it is needless to say that these issues are close to my heart. Millions of children depend on the hard work of War Child and it is imperative that its work continues. This is why Sass & Belle are incredibly proud to support War Child.' - Richard Stone, M.D. Sass & Belle.
This on-going partnership will see corporate and personal fundraisers throughout the year for this wonderful charity. Keep an eye out on our website, our blog and social media for future activity online and in our four stores!
War Child is the only specialist charity for children affected by war, delivering high-impact programmes to rebuild lives in countries including Afghanistan, Iraq, Syria and Uganda. The charity aims to reach children early in the conflict and support them to deal with the traumas, equipping them with the skills to go back to school and providing training to young people so they can support themselves. From helping Syrian children access education to enabling girls to escape life on the streets in the DRC, War Child puts children at the centre of the solution.
By keeping children safe, giving them an education and equipping them with skills for the future, War Child's work is life-changing. Their most recent work has been opening a new space for Syrian children in Jordan, expanding their work to another camp where they can support even more children and families. The new space will host a range of activities from pre-school education to theatre and storytelling workshops for children aged between 4 and 17.
'We are particularly excited about the first War Child youth magazine to be published. We'll be providing workshops for 320 young people in creating writing, videography and photography. They'll also be able to use these new skills to create and publish their own magazine.
But it's not just young people and children who will benefit. The project will also give 400 parents access to training on how to better support their children's learning at home. In total, the first phase of the project will reach over 2,000 children and parents.' - War Child
Sass & Belle X War Child | Spring for Change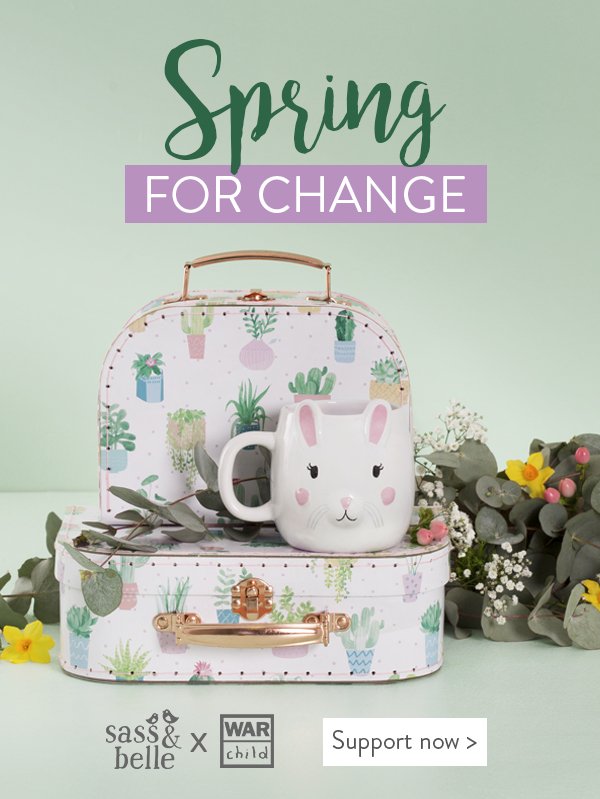 Springtime is all about bringing change into the world and with this theme prominent in our minds, we turn our attention to those in need of life-changing support.
This campaign in April 2018 saw 10% of all sales made online from Bertie Bunny Mug and Pastel Cactus range, donated to War Child.
Sass & Belle X War Child | The Greatest Gift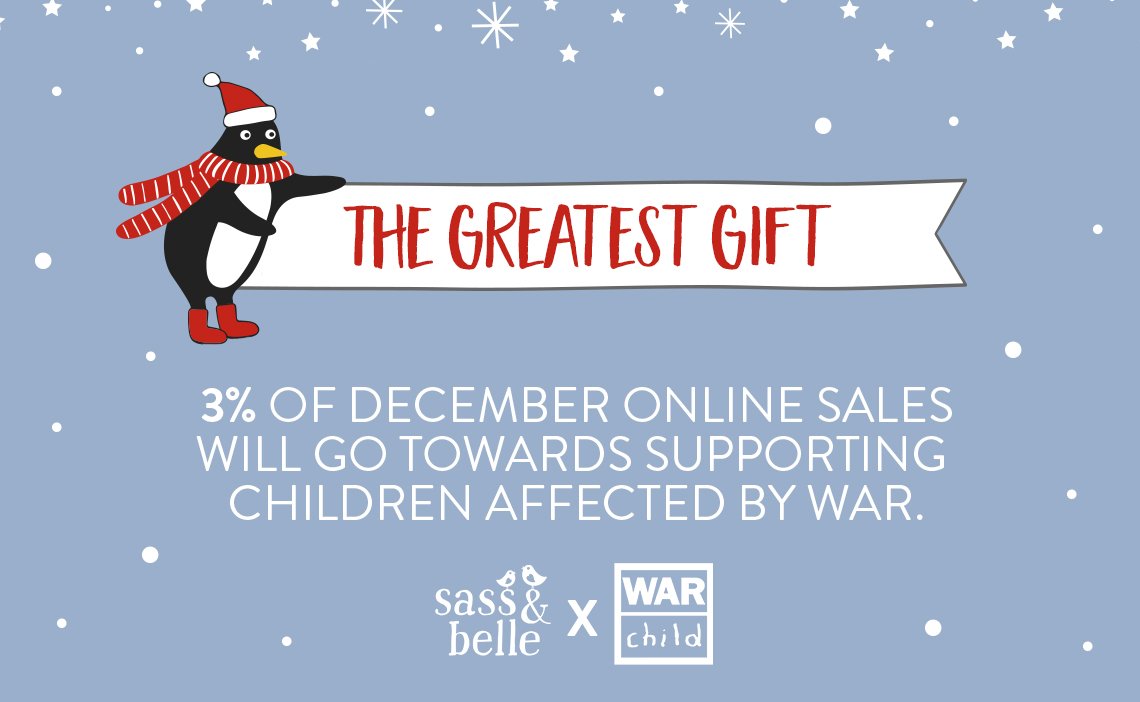 Christmas is the season of giving and a time to not only be thankful for the little things in life but to also extend a thought to those who help make our world a better place for those in need.
Throughout December we ran a campaign to help give the greatest gift to children in conflict by helping to make a positive difference in their lives. We donated 3% of all sales made online, to War Child.
Sass & Belle X War Child | Believe In Change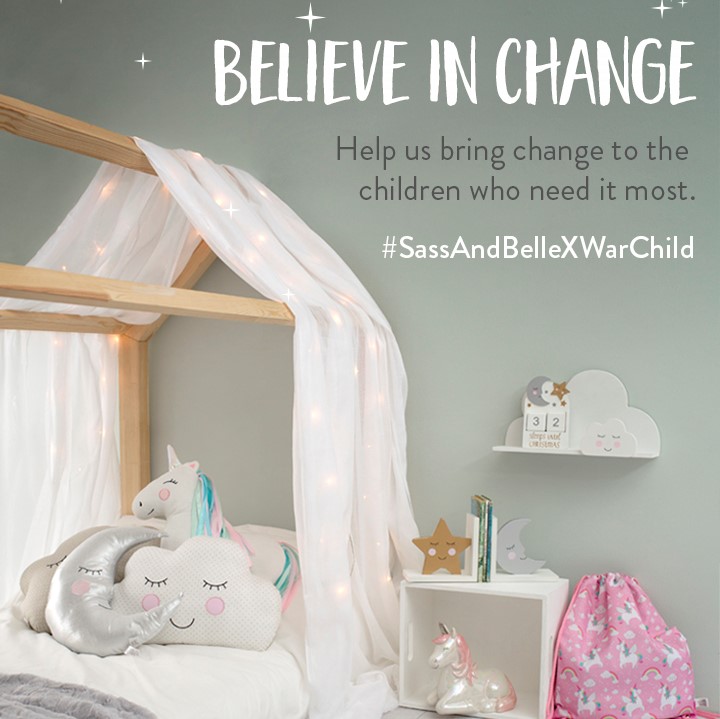 With your help, this campaign raised money for War Child through our charming Sweet Dreams and Rainbow Unicorn collections.
Our previous Sweet Dreams Campaign was successful with our Scandinavian inspired and child-friendly dream-inspired homewares and accessories so we decided to include these items again.
This time, however, we added our new Rainbow Unicorn collection as a reminder to always believe. For every item purchased online and in-store from these collections, we donated £1 to War Child.
With this campaign, we encouraged you to believe in more than the magic of unicorns, we encouraged you to believe in change.
Sass & Belle X War Child | Sweet Dreams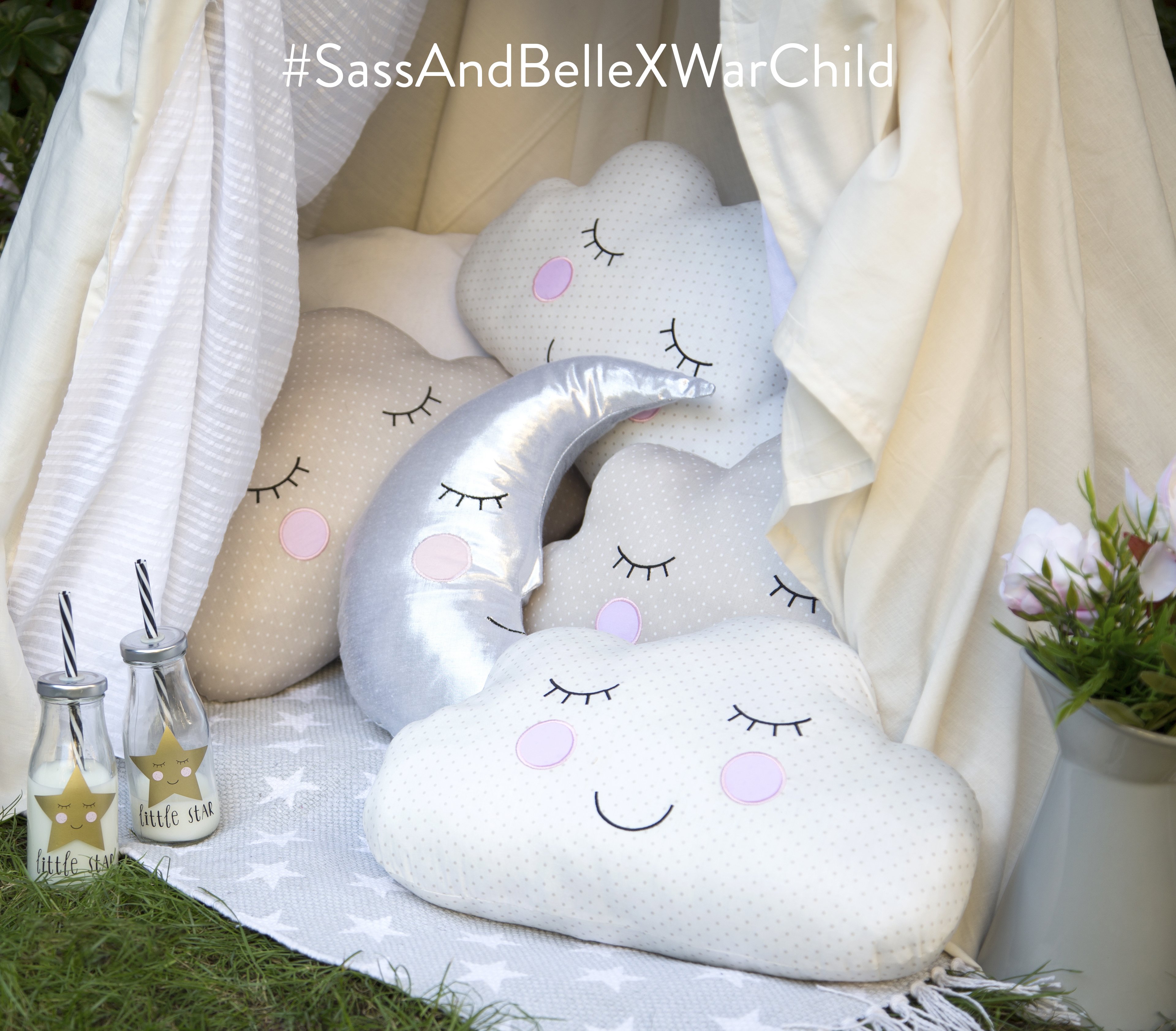 'Every child deserves Sweet Dreams'
This campaign saw £1 donated to the worthy cause from the sale of eight Sass & Belle favourites from the Sweet Dreams collection.
Featuring suns, moons and clouds the child-friendly gifts, homewares and accessories inspire sweet dreams for children of all ages and make the ideal range to partner with the children's charity.
Inspired by Scandinavian design, Sass & Belle's Sweet Dreams collection contains an abundance of homeware decorations and gifts which are as stylish as they are adorable. With a neutral palette and sweet details, they're perfect for decorating the kid's room.
By selling sweet cloud and moon cushions, bunting, money boxes and more home decor pieces, Sass & Belle is supporting War Child, because every child deserves sweet dreams.