CHARITY & GIVING
The Making of a Home
Your pennies make all the difference

For every £1 spent on our website, we will donate 1p to War Child UK.

Shelter is a fundamental need, but it is one of first things to be tragically robbed from children caught in conflict zones. The lack of a safe space to call home can have a profound impact on a child's wellbeing and development, and the effects can last a lifetime.

Throughout 2020-2021, more than ever, we have all come to understand the value of a safe place to call home, but many people around the world aren't so lucky. Right now, millions of children are stranded without the security and protection afforded by basic shelter. We are working to end that tragedy, we hope you will help us.

Every time you order from Sass & Belle to update your own home, you are contributing to developing safe spaces for children in war zones, where they can feel at home through play, learning and expressing themselves.
We are proud to announce that this 1p for every £1 contribution will be part of an ongoing partnership with War Child UK.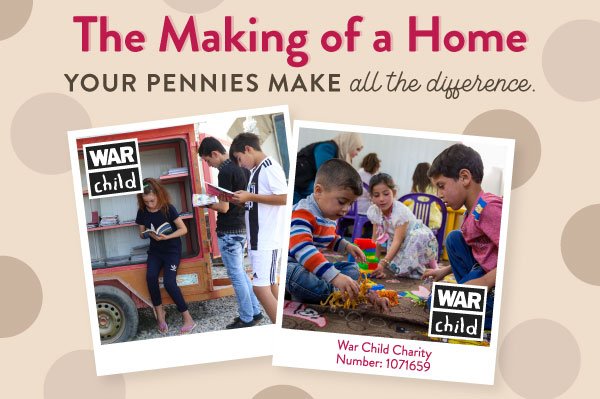 ---
Previous campaings
We created many campaigns in the last few years to help raise funds for War Child and we are proud to say that we have raised a total of £27,681.