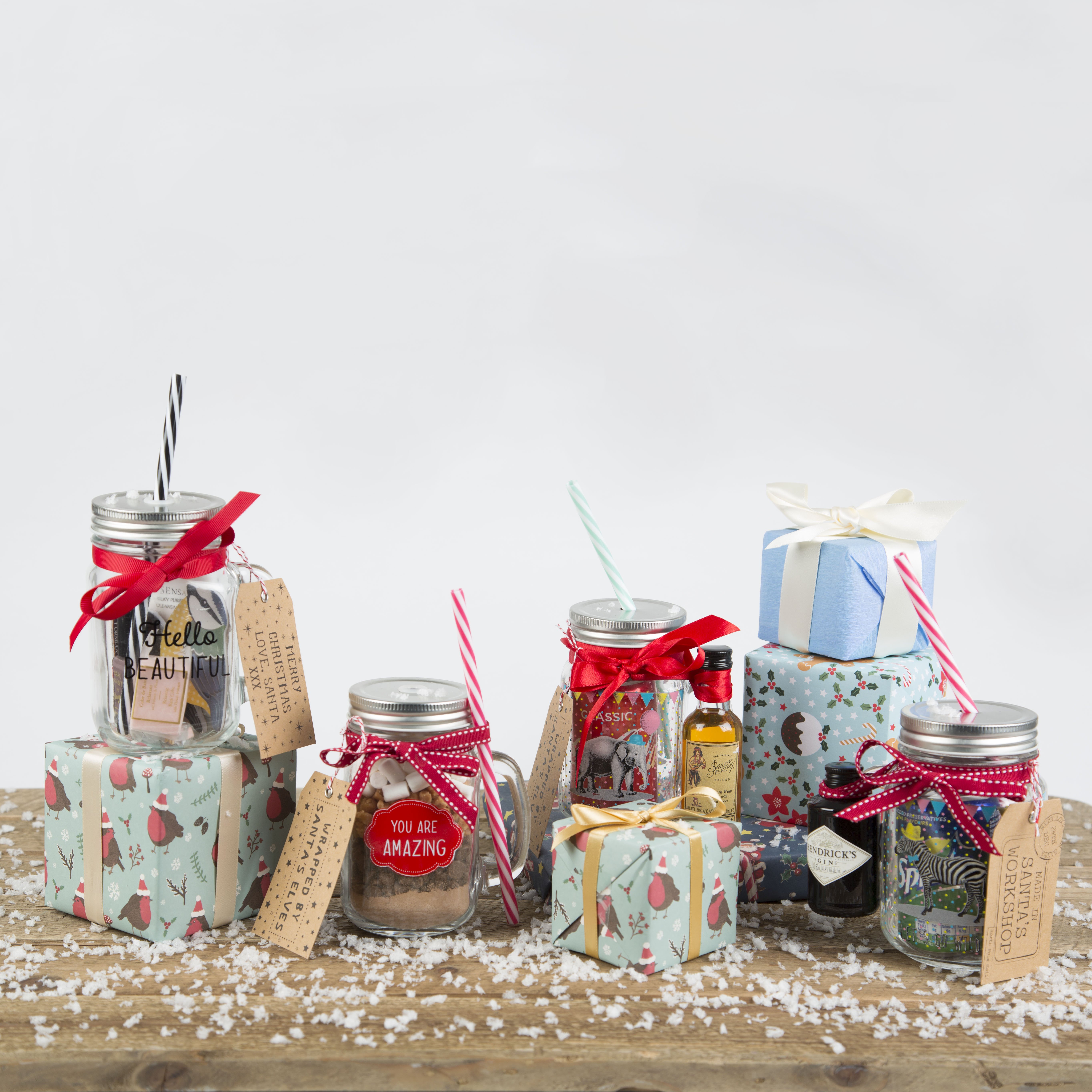 Finding the perfect gift around Christmas time can be tough, particularly for the person who has everything! Striking the balance and gifting something which it thoughtful, original, imaginative and practical is an art but don't fear. At Sass & Belle, we're gifting experts and we're here to help. Gifts in a jar are the perfect way to personalise a fun and thoughtful present and in this article we hope to inspire you with lots of ideas!
For the party animal
The party lover can be hard to buy for because all they want is a good time. Vivacious and carefree, they will love this gift jar which has their name written all over it! From our charming Party Animals collection, we offer an assortment of drinking jars which have either a party-ready elephant or trilby-wearing zebra adorned on them. The quote 'let's go wild' is printed on too. To personalise, simply add the recipients favourite liquor and mixer so that can enjoy their go-to drink in their new favourite glass. The jars are the perfect size for fitting a mini can inside and a mini bottle of alcohol can be tied to the handle.
You will need:
• Ribbon
• Gift tag
• A Party Animal drinking jar
• A mini mixer
• A mini bottle of alcohol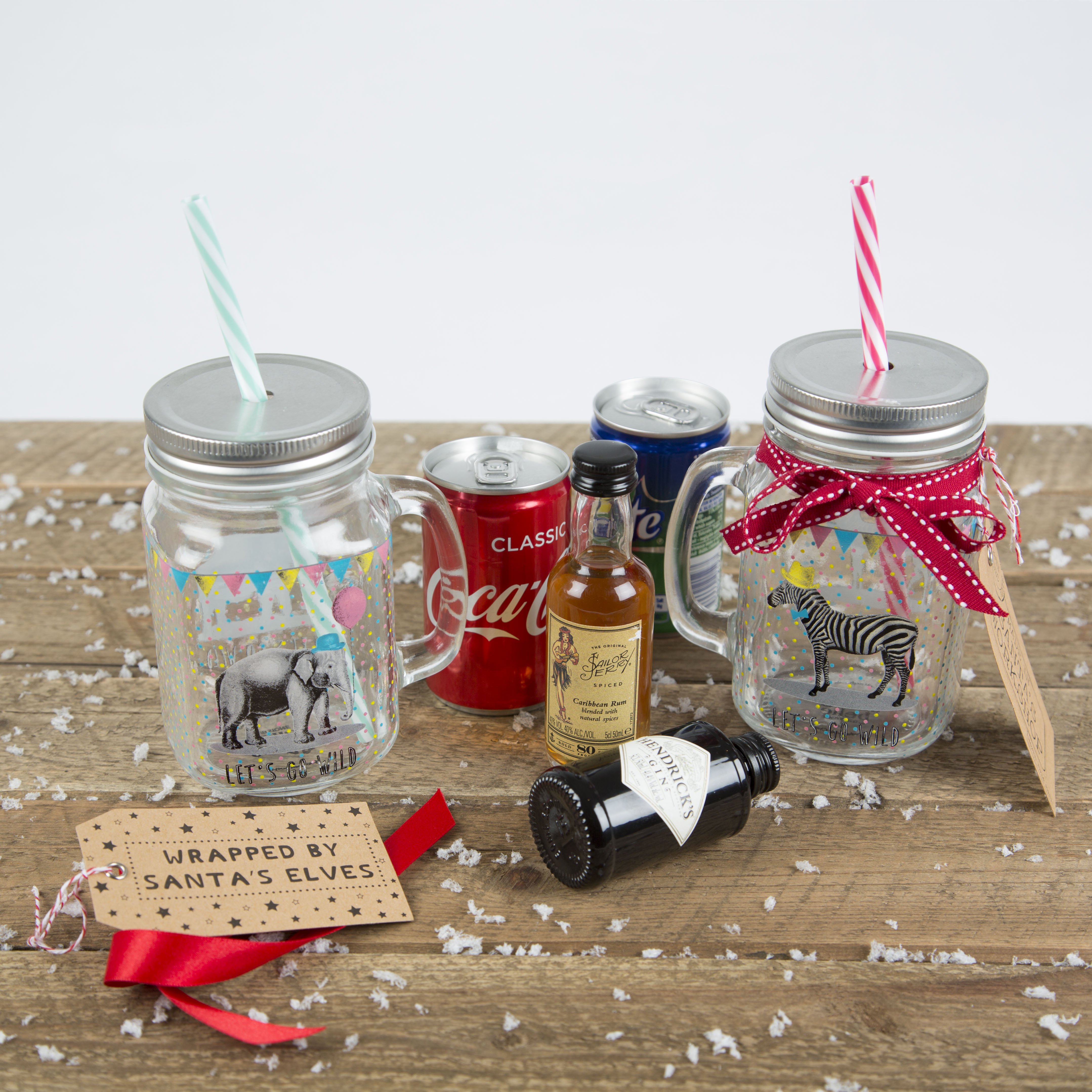 For the chocoholic
You know the type: the sugar-fiend, chocolate addict, will eat anything if it's covered in chocolate sprinkles. Last year you bought them chocolate and the year before the very same thing. They didn't complain of course because they love chocolate more than life itself, but you're looking for something more creative. We suggest a drinking jar filled with all the ingredients to make the most delicious hot chocolate. Not only do the ingredients look pretty layered upon one another, you can get imaginative with the ingredients. We went for fudge sprinkles, hot chocolate ingredients, chocolate chips and lots of marshmallows!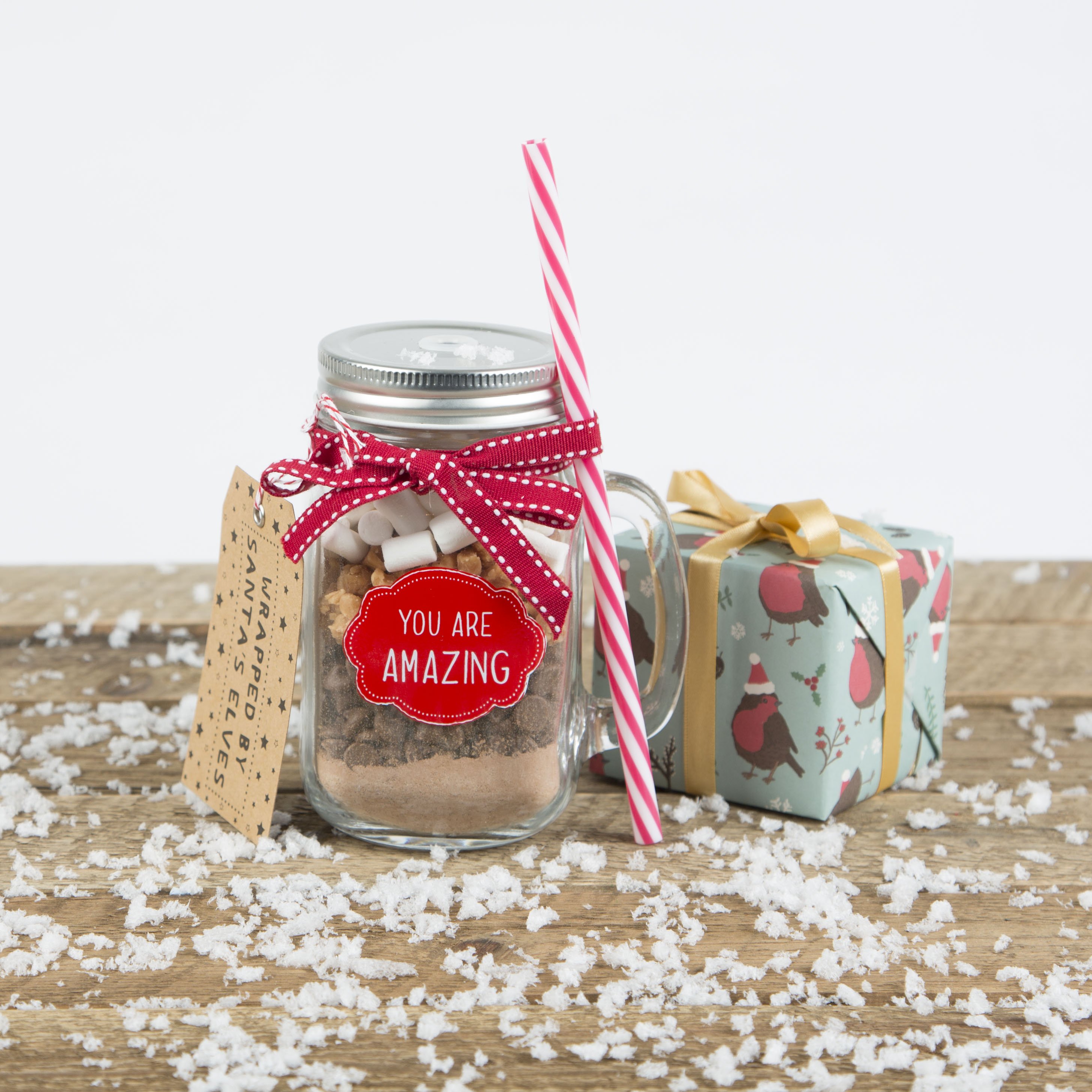 You will need:
• Ribbon
• Gift tag
• A drinking jar
• Ingredients for a yummy hot chocolate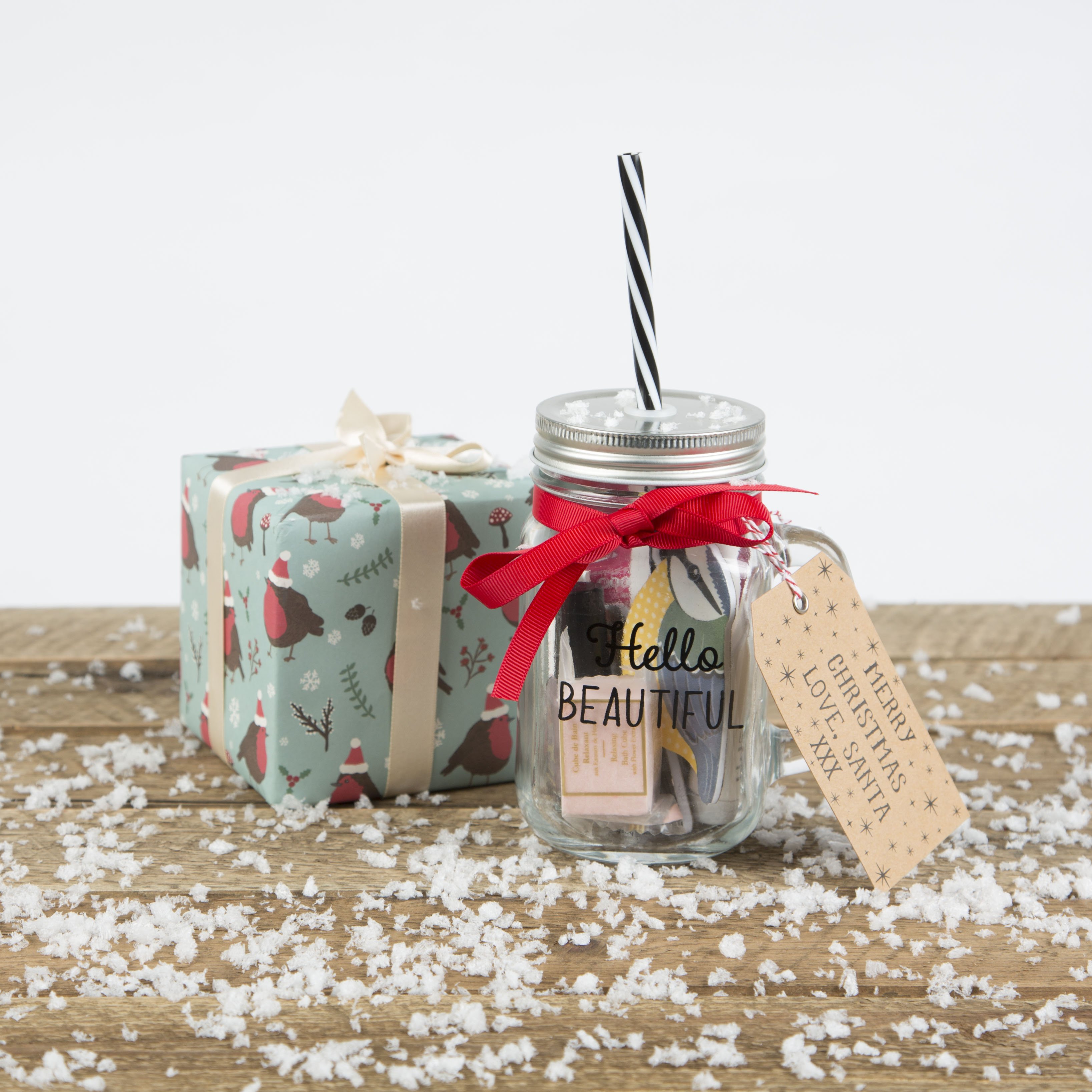 For the pampered princess
The princess likes to pamper. Her idea of the perfect night in is running a bath and filling it with bubbles, doing a face mask and making her nails tip top. Candles are essential and a background rom-com is obligatory. Pink fluffy slippers are optional. This gift is a unique take on the bath and body set that she's probably already acquainted with. We like to think of this drinking jar as a relax and recharge set. Inside we recommend a dissolvable vitamin C powder which can be drunk from our hello beautiful drinking jar. This is recharge element of the gift! Feel free to add whatever you want but some ideas are nail vanish, luxury skincare minis, travel minis, lip balm, face mask and a mini bath bomb.
You will need:
• Ribbon
• Gift tag
• A drinking jar
• All the pampering goodness that will fit inside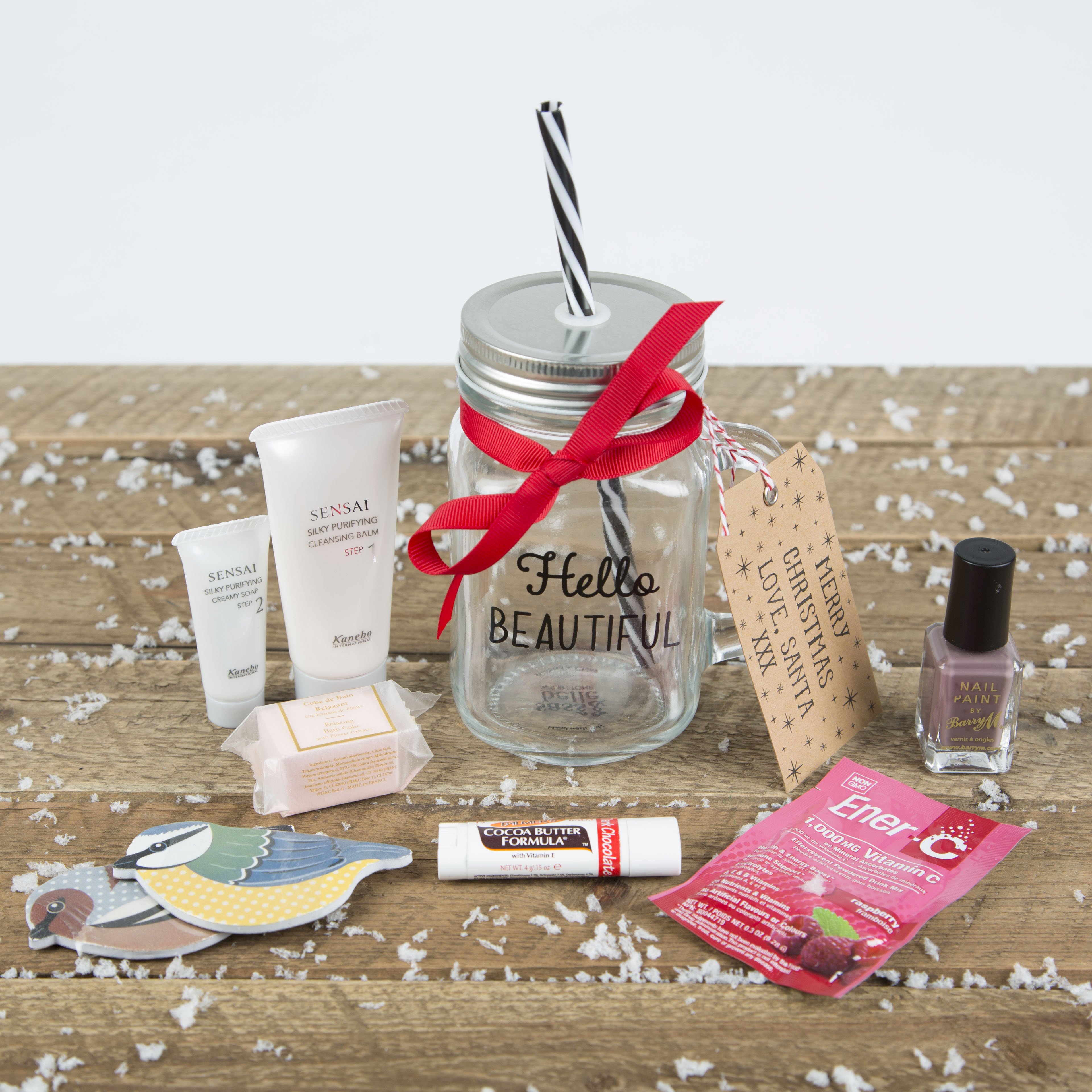 We hope this post has inspired you to get creative with your gifts! We'd love to see if you create any gift jar so make sure you tag @sassandbelle or #sassandbelle on Twitter, Facebook and Instagram.