How to Make Your Stationery & Desk Pretty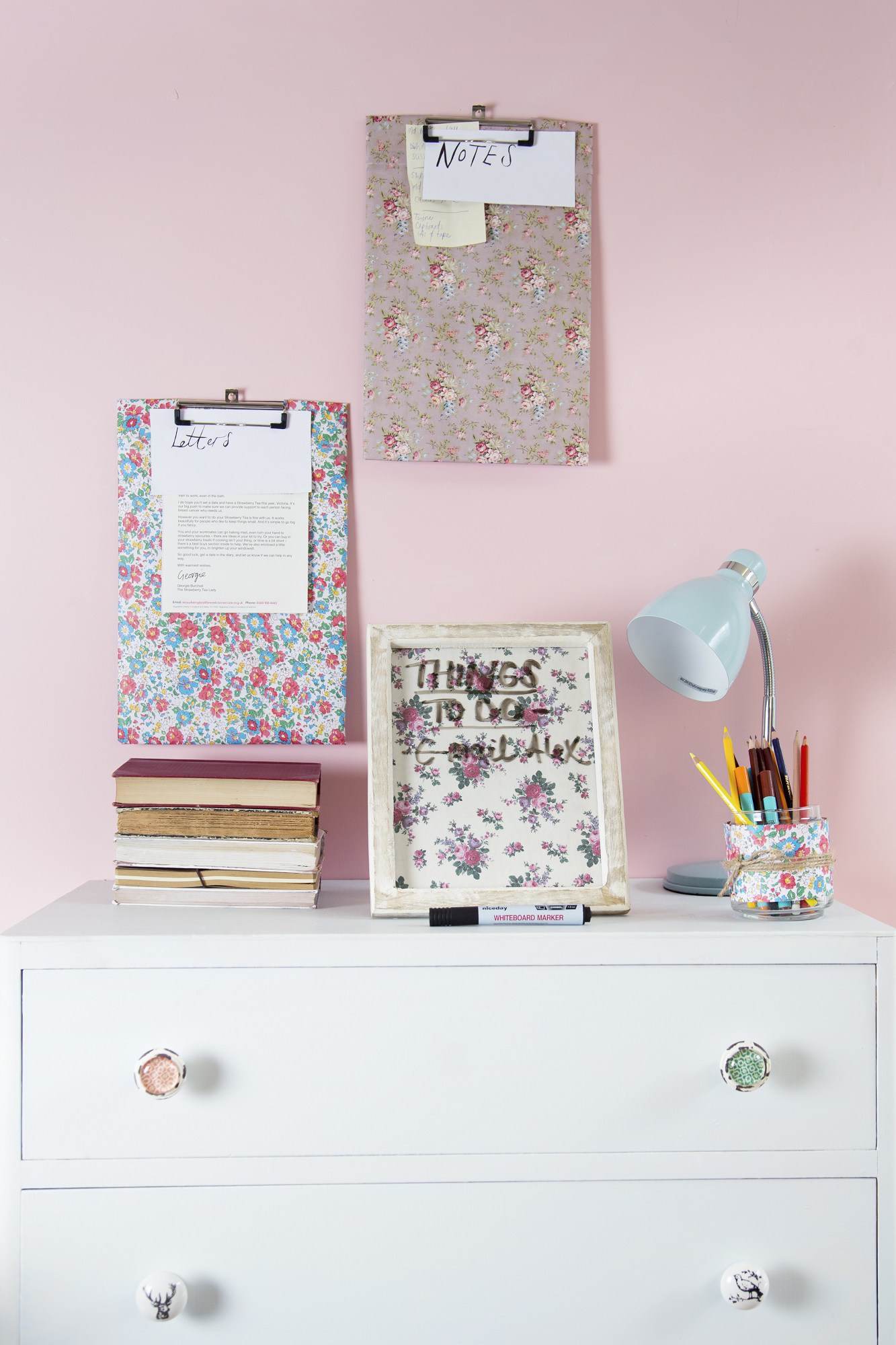 Sometimes it's completely and utterly necessary to give your work space a bit of a face-lift (and nothing at all to do with procrastination, honest). Having a lovely space to work in can completely affect your productivity and mood; in fact having an organised and functional desk can shave hours off your day. Just a little sprinkle of love here and something pretty there and you'll feel a whole lot better about finishing that spreadsheet/phone call/email etc. Follow our simple and easy tricks to make your stationery pretty as a picture and the entire office will be swarming around desperate for you to share your secrets. Our key ingredient? Wrapping paper!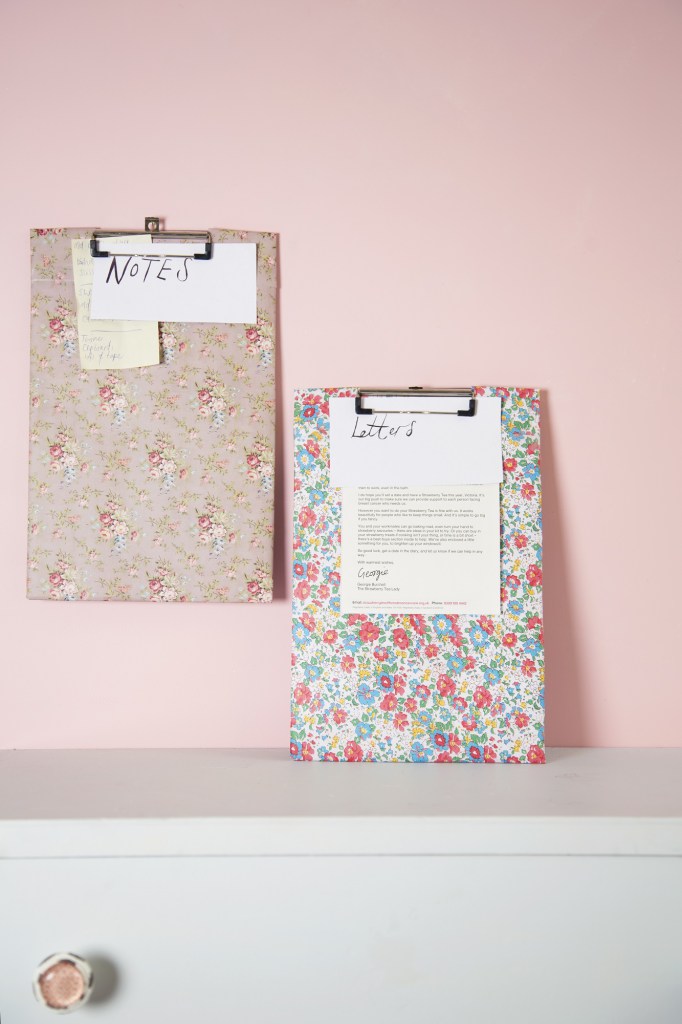 Clipboards
Clipboards are becoming a decorative piece in their own right. Perfect for storing lists, paper and an abundance of post-it notes, you can hang multiples on walls to create a statement and keep organised. Follow our extremely easy method on jazzing up your clipboard!
You will need
A clipboard
Scissors
Some tape
Steps
Take your wrapping paper and wrap tightly around the clipboard.
Stick tape on the back or on the sides so it doesn't get seen when it's hung up against the wall.
It might not completely fit on in which case you cover up the clip board with paper and tuck it underneath.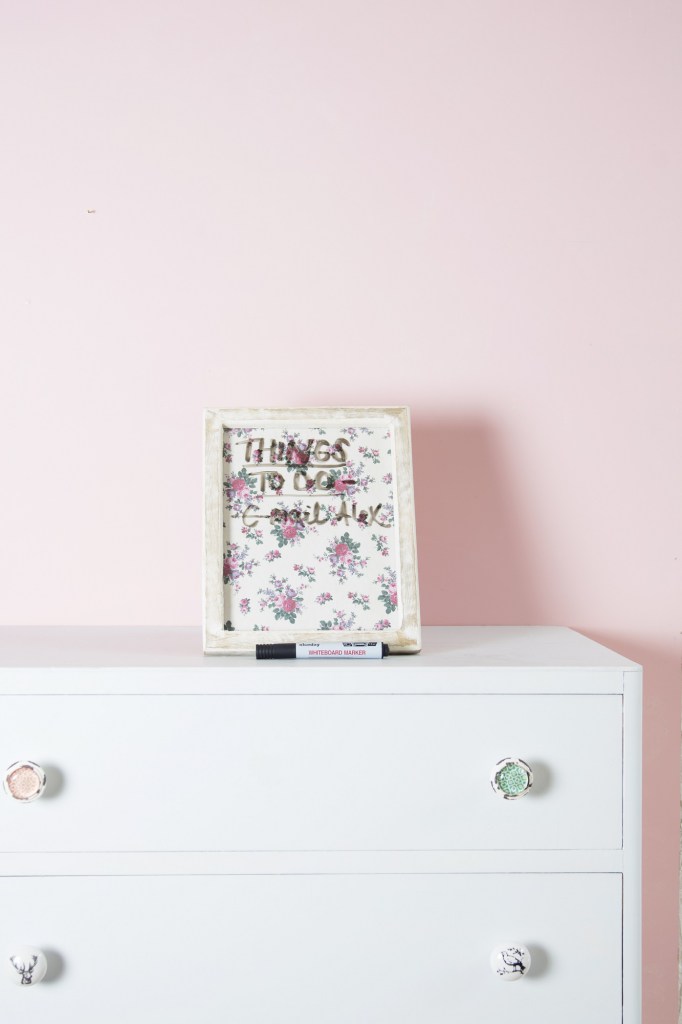 Make Your Own Whiteboard
Post-it notes are great. Paper is pretty useful too! But there is something about a whiteboard that gets us nostalgic about our school days and all excited because you can wipe. It. Off! Sure, it's not as advanced as a tablet or computer but there's something great about the simplicity of the whiteboard. So why not follow our nifty steps for making your very own. It's a lot prettier than the ones you had in school, we promise.
You will need
Scissors
Whiteboard marker
Steps
Take apart your photo frame and remove the inner paper.
Take the glass and carefully draw a line around it.
Cut along the lines so that the wrapping paper is the same size.
Put in the photo frame as if it were a photo.
Write on the glass with the whiteboard marker and wipe off as and when you please!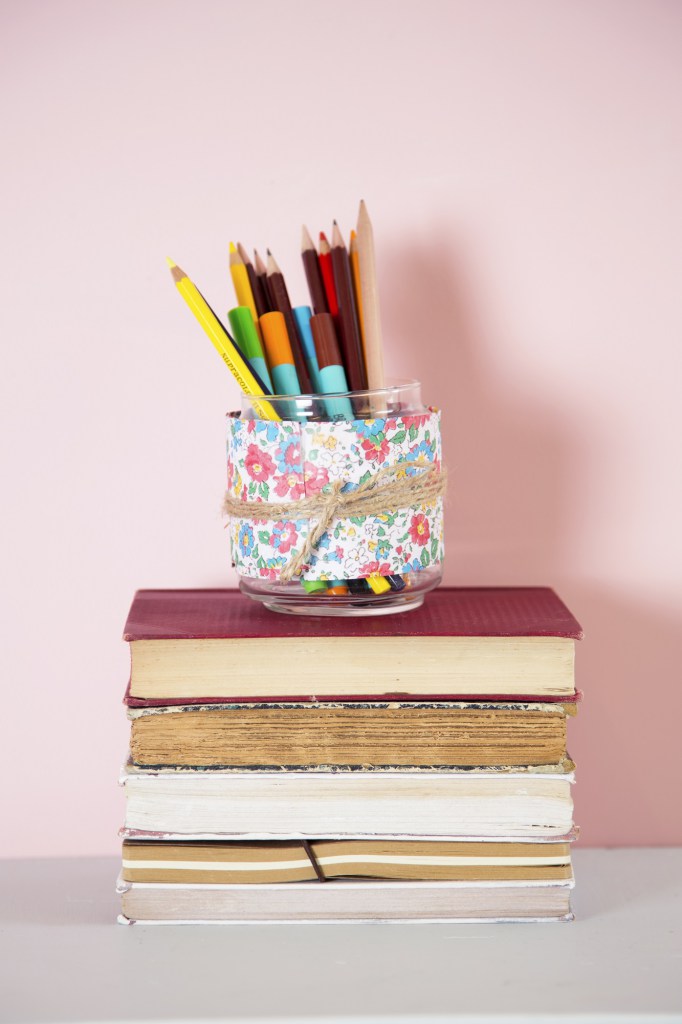 Pen Pots
Oh pen pots! What is our desk without you? You keep us together and are always there with a pen to hand. What do we owe you? Some tender loving care, that's what we owe you. Here's how…
You will need –
Some string
Scissors
Some tape
Wrapping paper
Steps
Wrap paper around jar/pen pot and trim to size.
Stick into place at the back.
Tie around a piece of string.
There you have it, three quick and easy ways to update your desk. Please share with us any pictures you have from your own desk update, we'd love to see. In the meantime enjoy feeling organised!