Say hello to our SS17 collection!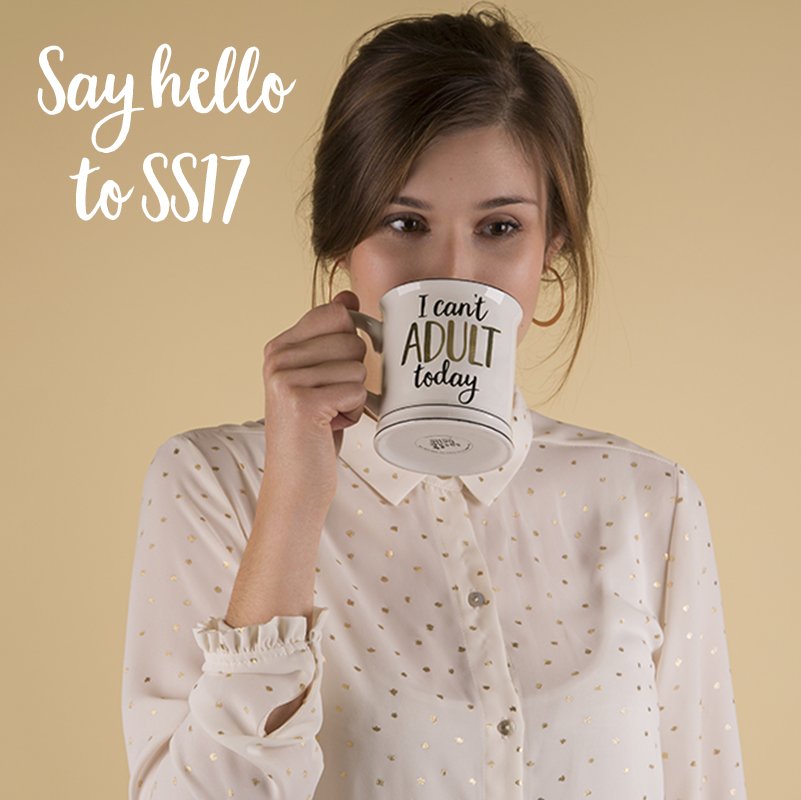 The eagle-eyed among you will have already spotted some brand-new product launches on the Sass & Belle website. These are items from our much anticipated SS17 collection and we felt they required a formal introduction. They are pretty darn fabulous after all! Our SS17 range hosts an array of collections, all of which are trend-led, quirky and unique. Whether you love interiors which have a relaxed European aesthetic, or cats are totally your thing, we have gifts and homeware which we promise you're going to adore. Read on…
Metallic Monochrome
There is no doubt that monochrome is having a moment, and metallic has been ruling homeware and fashion trends for a while now. So, the combination of the two? Well, that more than piques our interest. The Metallic Monochrome collection is all about gold touches amidst a black & white palette. Think polka dots, crisp white backdrops, elegant typography, and always positive vibes.
Black Cat
For feline lovers who adore a touch of monochrome, the Black Cat collection is the one. Featuring a simple design, the bold and contemporary illustration is charming and striking. The cat as a fashion symbol has been on the edge of culture for a while and this season the character is thrown into the mainstream and, oh boy, has it arrived with style! The Black Cat mug is a favourite!
Eyes On You
The limited-edition Eyes On You collection is the perfect blend of contemporary and luxury design. Created for the fashion-conscious individual, the print celebrates the iconic eye symbol. It's given an abstract element and a feminine touch which looks beautiful applied to everyday fashion accessories such as a shoulder bag, passport & card holder, among more.
The magical, fantastical Starlight Unicorn collection is utterly dreamy. Set at midnight, the design comprises of a rich colourway inspired by moonlight hues with hints of mint and lilac keeping it fresh. A sophisticated interpretation of the whimsical unicorn, this print works for both adults, children, and everyone in between. We love the set of 3 suitcases!
Wanderlust Adventure
If you love adventure and are ready and waiting to explore every corner of the world, then say hello to the Wanderlust Adventure collection. This range encapsulates a world where anything is possible and ignites thoughts of travel and the open road. The stunning photography used in each design sets out to inspire, recreating the feeling of being out in the open. It intends to remind everyone that the world is in our hands and is ours to see. Find adorned to an abundance of travel accessories including luggage tags, sunglasses case and more.
Fun Faces
A recurring theme of the new Sass & Belle collections is fun and the Fun Faces collection certainly embodies this! Reinstating an element of play for adults, the design is bold, simple, and charming. This versatile range pays homage to today's culture and how easy it is to relate to an image or an emoji over the written word.
Sweet Dreams
The Sweet Dreams collection is utterly adorable and evokes playful innocence. Clean, simple shapes, such as stars and clouds, are given cute characterisation through small detail. The soft and metallic palette in this collection is suitable for all genders and it certainly isn't restricted to just children! This range explores the concept of beautiful design merged with the idea of play. Don't miss the beloved cloud cushions.
Busy Bugs
The Busy Bugs collection is perfect for kids! Featuring an abundance of kitchen and picnic accessories, this range focuses on the fun of being outdoors. Food-on-the-go was at the forefront of the designer's mind when thoughtfully creating this collection, and this sentiment is embodied through a practical lunch bag, water bottle and more.
Dino Skate Park
Another collection the kids will adore! With intricate and characterful illustrations, the sweet print is all about the new kids on the block. The dinosaurs are mischievous and playful which is further illustrated through the rich primary colour palette of muted red, zingy yellow, and cool blue. We love the wooden bookends which are utterly charming.
Mediterranean Mosaic
The Mediterranean Mosaic collection is a beautiful range which evokes a sense of simplicity and warmth. Inspired by intricate mosaics, the vibe of the range replicates the relaxed aesthetic of European interiors. The Mediterranean tile is reinvented and brought into a new context of everyday homeware. The fresh, holiday-inspired colourway makes this perfect for summer.
We love the Kawaii Friends collection! Celebrating Japanese pop cultural with simple depictions of sweet animals, bright colours and adorable faces embody this range. Find everyday products reinvented, including pencil cases, backpacks and more.
At Sass & Belle, we've been embracing plant life for a while now! Surrounding yourself with greenery and bringing the outdoors in can make your soul smile and spread positivity. Our Colourful Cactus range honours cacti and embraces its uniqueness. Despite its prickly exterior, you never know how a cacti plant will blossom and which pops of colour it will bloom. We explore this through our design of quirkily illustrated cacti in a rich colourway.
Tropical Summer
Bright colours, happy prints, and functional products define the Tropical Summer collection. Beloved for its unique interpretations of favourite summertime characters (including pineapples and flamingos), it embodies what everyone loves about summer. If this collection were a drink it would a deliciously fruity cocktail. This season additions focus on the party theme, find practical paper cups, plates, and bunting!
We hope you now feel well acquainted with our SS17 collection! Don't forget to tag @sassandbelle on Facebook, Instagram and Twitter, or use the hashtag #sassandbelle. We'd love to hear which items are your favourite from our brand-new range!