Bohemian Chic - 5 ways to achieve this latest interior trend
Guest blogger bio: 'Annie Button is a Portsmouth based writer and recent graduate. Annie likes to share her experiences and knowledge through her blog posts and has written for various online and print publications. When she's not writing Annie enjoys relaxing with a good book'.
One of the latest interior design trends of the year is Bohemian Chic. Bohemian describes a person who lives an unconventional life, is richly artistic and probably well-travelled. As an interiors style, therefore, 'boho' is impossible to pin down.
What it isn't is perfection, or minimalism, or pared back living, or following any kind of rules in an effort to master a particular look. Instead, think of it as an eclectic mix of colours, patterns, furniture and furnishings that are effortlessly thrown together to produce an ambience that's inclusive and utterly laid back.
Bohemian décor marries classic mid-century design with ethnic influences and one-off vintage pieces, adding meaningful finds collected over the years. Rather than a defined 'style', it's an outlet for self-expression and confident creativity that's a feast for the eyes and balm for the soul.
Interestingly, Bohemian Chic is not a new trend. It was huge in the 1960s and 1970s during the hippie movement and parts of 'boho' have been a feature in some shape or form ever since. Taking its cue from a wide selection of cultural styles, geographical regions and historical times gives huge scope for mixing and matching unique pieces to produce a fresh, different look every time.
If you're keen to get away from prescribed interiors style and want to personalise your home boho style, here are 5 ways to do it:
1. Interesting colours, patterns, textures
Bohemian style homes are filled with vibrant colours and interesting patterns that are a visually exciting. Mediterranean ceramic floor tiles, curtains and upholstery in rich Liberty linen fabrics, jewel coloured walls or ornate wallpaper are just some of the many variations seen in Bohemian homes. Alternatively, why not play down the colour palette and play up raw, natural textures instead? To add instant boho impact in any room – and yes, that includes kitchens and bathrooms – all it takes is a gorgeous oriental rug or mat with an intricate tribal design or in an eye-catching pattern.
2. Natural finishes with a rustic touch
The Bohemian aesthetic is largely based on furniture and accessories in natural materials and raw, artisan textures including wood, rattan, sisal, linen etc collected from various cultures and countries. Worn wooden furniture, ideally made by local craftsmen in countries such as Thailand or India, colourful tribal Turkish kilims or leather pouffes from Morocco – each striking item is a great conversation starter in its own right. Ideally purchased as souvenirs during your travels there, they will all mingle together to create an individual look that no-one else can copy.
3. Treasured heirlooms and vintage finds
One if not the most refreshing and liberating feature of boho style interiors is that there are no rules to follow! Have the courage of your convictions and fill your home with treasured possessions, junk shop finds and meaningful objects that you've collected throughout your life, without worrying if anything matches. Vintage furniture from diverse styles, antique mirrors, old artworks, books, knick-knacks, travel curios and exotic artefacts – anything goes and the more the merrier! The look you are going for is for living spaces to look effortlessly, almost randomly, decorated with things you've picked up here and there, all over the world.
4. Lush Greenery
The relaxed, exotic vibe of Bohemian style design is complemented perfectly by lots of lush green foliage in the room, which not only adds texture and colour but is perfect for creating that free spirited vibe. Think of your living room or bedroom as a grand winter garden or orangery and fill it with an abundance of leafy green indoor plants. Choose from retro style Swiss cheese plants and rubber plants, structured succulents, delicately fragranced orchids and jasmines, tropical ferns and floor to ceiling palm trees – they all add interest in their own quirky way.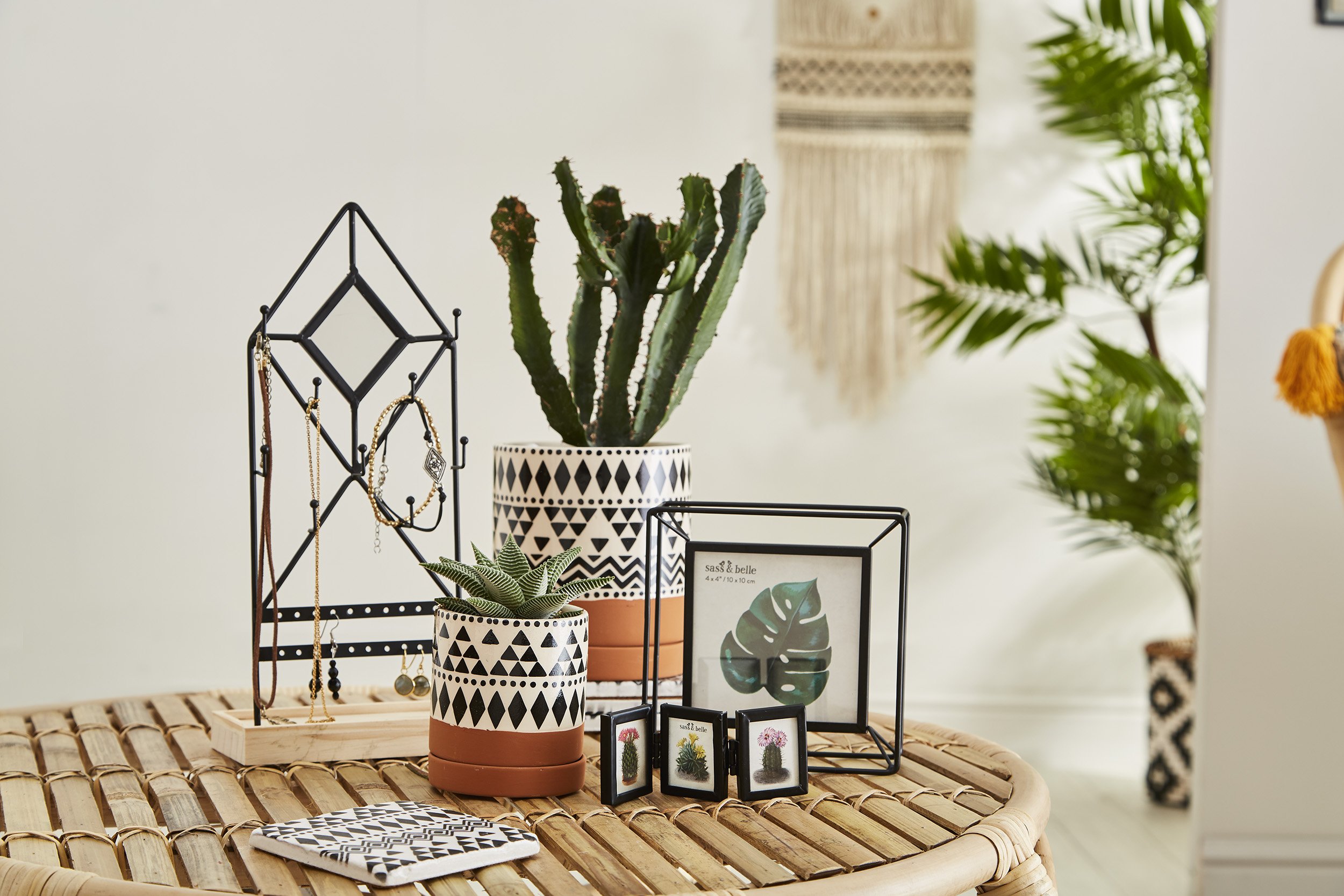 5. Plush seating with plenty of cushions
The point of boho home is to create a space that always feels warm and welcoming. With the roots of 'boho' going back to the nomadic tribes of North Africa and the gypsies of Eastern Europe, it's a melting pot of colours, patterns and textures blending cultures and history. Make sure you invest in plenty of seating – a large comfy sofa with lots of mismatched cushions and cosy blankets, squish leather armchairs, ornate foot stools or ethnic scatter cushions for the floor, so that your living room is a casual space to relax and entertain friends.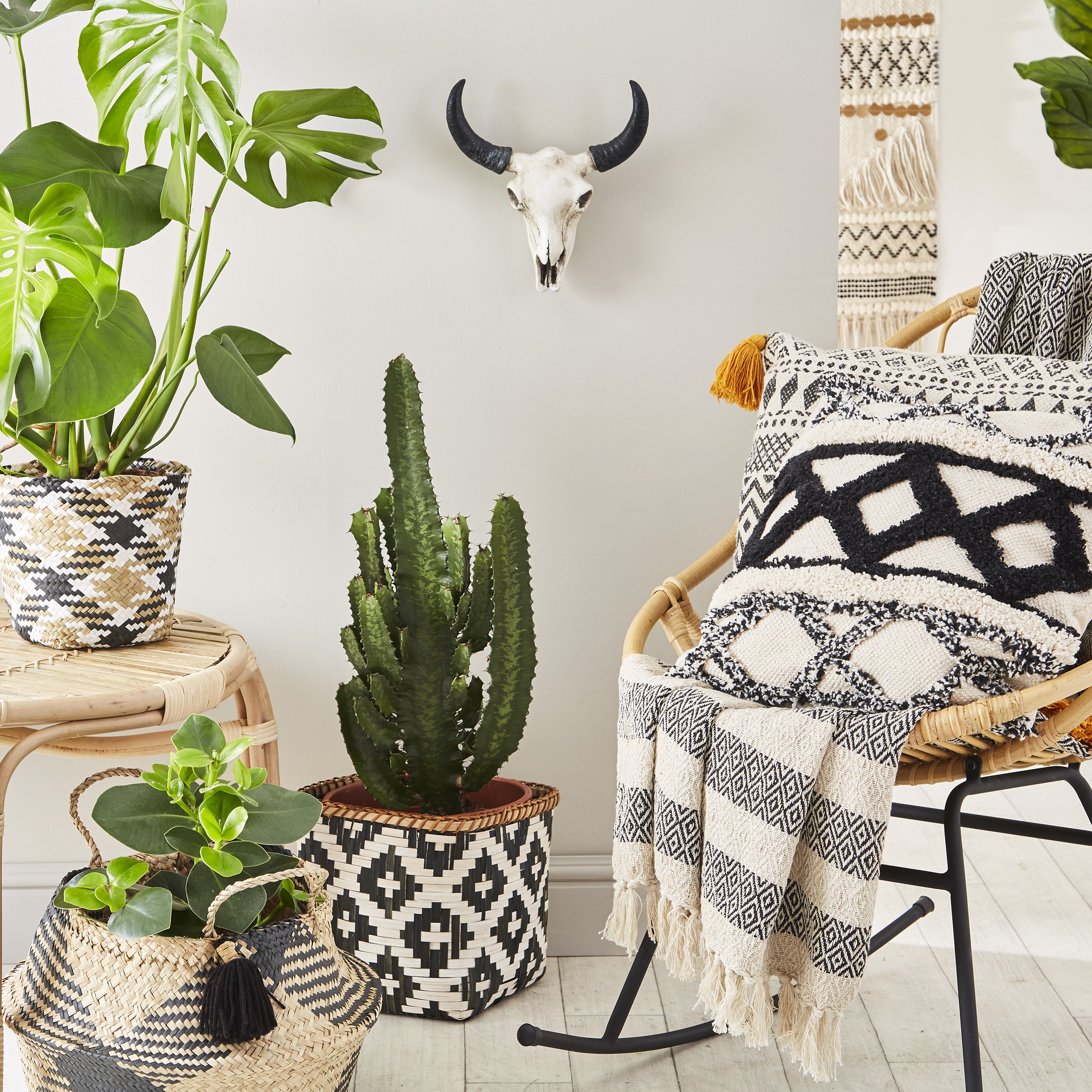 Shop the new for AW18 Scandi Boho Collection, perfect for creating those bohemian chic vibes outlined in this helpful blog post! Enjoy geo prints, bamboo, seagrass, tassels and more with this on-trend range of chic and fashionable home decorations. These stylish pieces add touches of Scandinavian charm to your home the Sass & Belle way!